Model UN returns to international conference, wins eighth award
The students of CHS's Model United Nations (MUN) club took their annual trip to New York City this March, where for the eighth year in a row they were awarded for their community service. 
This was the 23rd annual trip to New York City. Under the advisory of social studies department chair Kevin Wagner, the students are able to attend this trip multiple times throughout their high school career, in order to advance their ability to debate on a political platform that discusses world issues. 
MUN is an educational simulation at which students are provided the opportunity to learn about diplomacy, international relations, and the United Nations. Within the academic program, students require an advanced knowledge of debate etiquette, public speaking, writing skills, and critical thinking that is taken further in a way that is applicable in a career field. 
"Model UN advances the ability to debate," CHS MUN president Samantha Martin said. "Model UN has taught me how to be a better debater and how to cooperate with people. People forget about that. It's not just a debating program but there is more beneath the surface."
"
Model UN has taught me how to be a better debater and how to cooperate with people. People forget about that. It's not just a debating program but there is more beneath the surface"
— Samantha Martin
At Carlisle High School, Model UN  is offered as an extracurricular activity, as opposed to a class. Students involved know that there will need to be high-quality work done outside of school, required commitment, and sophistication and intelligence needed in order to thrive within the program. 
On the anticipated trip to New York, students spent quite some time working within the conference but were also able to venture out on their own. The trip mostly included visiting places such as the Midtown Hilton hotel and also the United Nations itself. 
"We spend the majority of our time in committee, but in our free time, we can do whatever we want," said senior Caitlin Fay. "I've gone to the Met, Rockefeller Center, shopping on 5th Avenue–the possibilities are endless."  
At least for some.
The MUN officers didn't have as much free time as their classmates. The role of being an officer means that you are expected to meet a higher level of execution of skill. Martin and Vice- President Ryan Jin took part in an emergency simulation very early in the morning. This enabled them to get an understanding of what it is like to be a United Nations representative in a crisis.
"In a crisis simulation, it is not a regular model un situation," Martin said. "You have to solve them within an hour. You will have to participate in an emergency conference."
While there, the team of 52 students was awarded the "Award for Generosity and Unmatched Service Learning," based on their fundraising efforts throughout the year.
Kevin Wagner, the academic adviser of Model UN for the past 23 years here at CHS, Wagner has been a part of the program for a total of 31 years. 
"I did four years when I was in high school, and then I did my four years in college working behind the scenes and helping to run the program," Wagner said.
As an adviser, he was able to sit back and watch all the hard work the students have done come to fruition. There were also faculty simulations at the conference where advisers are encouraged to participate. These faculty simulations are made to see if the adults remember what it's like to be on the other side of the table. This allowed the advisers to engage in their past high school endeavors.  
With Wagner's plethora of experience and knowledge, he is able to watch students grow and expand into a related career. 
"The biggest's confluence of the program, myself, and an advisory role is seeing students who are wanting to pursue it at a next level, particularly in a college setting," said Wagner. "There are a lot of students that come out of the Model UN program that go on to study international forums or political science or something that connects back to their Model UN experience. So that is the greatest reward.''
From the excitement to converse with real United Nations representatives and ambassadors, emergency crisis simulations, to the overall rare experience to be involved in these students' interested career fields, Model UN students had an opportunity to engage in something that will benefit their future. 
About the Writer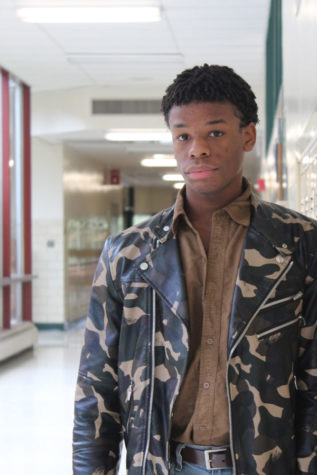 Zsilas Michael Hughes, Staff writer
Zsilas Michael Hughes is a senior at Carlisle High School. Hughes is almost 18 years old. He is entering his first and last year as a Periscope News staffer....